Here are just some of the many unsolicited testimonials we've received over the last 37 years.
"It has been about one month since you completed the foam roof on our 2800 square foot Eichler home... and not one morning has gone by that I haven't commented to my wife how comfortable our home has become since the advent of the roof. When we came home on a hot day last week, it was over 84 outside and a cool 70 inside. I believe that polyurethane foam is the answer for anyone with a dwelling similar to ours. Thank you for the professional service and quality product."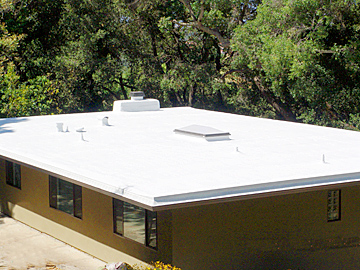 An insulated, energy eficient, fire retardant sprayed foam roof.
"As a retired engineer, I was determined to make up for a previous nightmare roof installation by doing my homework and making sure I chose the best vendor for the job. I solicited bids from everyone, and proceded to check the Contractors Board, District Attorney, Superior Court Records, city license bureaus, insurance and bonding information, IRS public records, Better Business Bureau, Dunn and Bradstreet, SPFA (national organization of foam contractors, based in Washington, D.C.)... and more. After a couple of weeks of letting it all sink in, I chose Custom Craft Urethane. Their price was mid to high, but not the highest... and they were the only company with a Dunn and Bradstreet credit rating and ALL required chemical handling and fire permits and plans in place. The execution of the project was smooth, with particular attention to my concerns about small details. Highly recommended."
"Keith Nokes and his crew at Custom Craft recently added five skylights and a foam roof to our Eichler in the San Mateo Highlands. Custom Craft's workmanship, equipment, results and quality of service were all highly professional. We were particularly impressed with Keith's attention to detail and positive attitude. He obviously knows exactly what he's doing, and is willing to go the second mile to keep customers happy. Our neighbor and friend who recommended Keith and Custom Craft Urethane was right on!"
"My wife and I want to thank you for the foam roof you put on our home this week. We already see a huge improvement in both comfort and our energy bills. Thank you for a job well done."
"We have never been so happy with the outcome of a project done at our home. Your crew is the most efficient and tidy crew we have ever experienced. You said we might see a 15-20 degree difference with a foam roof, and the first day after you finished it was 93 in Saratoga... and 70 degrees inside the house. Please feel free to use us as references. We welcome anyone calling us to discuss the project and schedule time to see the great job that was done."
"I couldn't be more pleased with my nice, insulating, weather-tight roof; the clean, efficient preparation, application and clean-up; and the price. Thank you so much for continuing to exemplify all the best in American business."
"My Eichler home in Palo Alto needed a new roof in the mid-eighties. After checking several technologies and roofers, we engaged Keith Nokes and Custom Craft Urethane to do the job. The next hot summer day showed thirteen degrees cooler. We were ecstatic. A dozen years later we remodeled extensively, and had Keith and his team return to address new skylights and other changes to the roof. Both time, CCU came in on time and on budget. Highly recommened to any homeowner wanting a quality, energy-efficient roof."
"Recently, your company redid the roof at Galaxy Lighting's Hayward store. I had expected the disastrous effects of a herd of gorillas ripping the roof off, but it didn't happen. Instead, a group of courteous and professional roofers cleaned and prepared the existing roof. Then they sprayed on the foam and coating. All through the job they stayed in touch with progress reports, etc. They they cleaned up and politely said good-bye. In the days that followed we realized how good a job they had done. I'd just like to thank you for persuading the owner of the building to have your company replace the roof. We as tenants appreciate it and our customers do too."
"I am writing to thank you for the outstanding roof work you did on two of my buildings. Two years ago you put a new roof on my home and another roof on a 22 unit apartment building. I am delighted to report that there has not been a single leak in either building... despite over 80" of rain during that period! I could continue on about how professional your workers were, how quickly you completed the work and how neat and clean you kept both job sites... but the main point is that my roofs do not leak any more! Thank you."
"My wife and I would like the thank you for our new roof. We appreciate your being on site while the work was done. Your professionalism throughout this project was appreciated. If in the future you need any recommendations, please use our names. And, we will not hesitate to recommend you to our friends. "
"Thank you for the professional job you and your team did at my home. I was amazed at the way it looked when I came home later that evening. Not only is the roof leak proof, but the house is cooler and quieter. It's about time someone started using modern chemicals and methods to solve old problems. Thanks again."
"Just a quick note to thank you for the excellent foam roof you and your crew applied to my home on June 10 this year. I was very impressed by the care and attention to detail you took in cleaning and preparation of the roof before applying the foam. Your spraying technique is perfect. Cleanup afterwards was excellent. You met and exceeded every item of your contract quote. I could not ask for a more thorough and professional job from anybody. I wish all businesses in this country operated with your quality and integrity. I am completely happy with your work and my new roof. Thanks for a superior job."
"Thank you for a job well done. You and the men that work for you are not the norm in today's business community... you do what you say you will do, at the price you quote, when you said you would do it. You keep the customer informed, and the job site neat. My dad was an architect, and he recommended that I get a Urethane roof. The product you installed has already saved me a bundle of money. The living area on the top floor is 15 to 20 degrees cooler on warm days, and during the windy and cold months that has been a marked change in the heating bill... down! Please count us as satisfied customers, and references."
"I have experienced 5 years of frustrating leaks and maintenance difficulties with a conventional tar and gravel roof. Since the completion of the job, our first month's electricity bill was 20% lower than the same period last year. Considering last year was mild compared to the 100+ temperatures of this summer, I expect significant savings in the years to come. I especially commend your commitment and professionalism in dealing with my needs and coordinating with a second roofing company required to complete the mansard portion of our roof reconstructions. You will have continuing success through your personal ethics."
"Please extend our appreciation to everyone at Custom Craft Urethane for a job well done. We were particularly pleased with the high quality of workmanship and professional manner in which the job was done. With this type of service your continued success is assured. Thanks again."
"I have had a foam roof on my Eichler home for many years. I must admit I have not been very happy with the workmanship of the three different roofing companies I used over the years for maintenance and replacement... until Custom Craft Urethane. Theirs was the most professional job I have ever seen. The crew worked quickly and carefully, sloping the surface to minimize pooling problems. The did a nice job of applying foam in and around awkward and confined spaces, with none of the sloppy overspray and paint of the previous jobs. For the first time I have complete confidence that my roof has been properly done, and will last as long as it's supposed to. Thanks again for a job very well done."
"Keith... add my name to your list of satisfied customers."
"My next door neighbor had a foam roof installed and said that it had made a huge difference in their home. They used Custom Craft Urethane, so I set up an appointment. After the installation was completed I couldn't believe the difference: the outside temperature was 97 degrees, while inside it was 82. With our previous tar and gravel roof, it would have been hotter inside than outside. I highly recommend Keith and Custom Craft Urethane to anyone in need of a new roof."
Call us at (510) 581-7747 to discuss your roofing needs!